Ordering Bare root
United Kingdom customers please contact:
Ball Colegrave
Clients français cliquer ici, s'il vous plaît:
Graines Voltz
US and Canadian customers please contact:
DarwinPerennials
All other customers please contact: Darwin Plants / Witteman & Co. B.V.
our sales rep. Kees van der Meij. E-mail
kvandermeij@darwinplants.com
Cell Phone: +31 651 389 586
Office: +31 252 535 000
It is advised to order your bare root before November 1.
Bare root Catalog
Our packing process begins December 1, Although we do accept orders after this deadline, the selection will be limited and varieties could be unavailable.
An acknowledgment will mailed to you as soon as we have processed your order. All orders are subject to crop conditions. We have a long growing season and many unforeseen problems may occur which can damage crops and thereby reduce the amount of plants available. Every effort is made to fulfil orders, but the availability of a particular variety cannot always be guaranteed until we begin shipping. Therefore, we may have to cancel some items from your order at a later date.
Order in multiples of 25. Crocosmia-Convallaria and Liatris are only sold in multiples of 75 (25 tags per 75 plants) Lilium are only in multiples of 50. (1 tag per 1 plants).
The plants are packed in plastic bags with peat moss, those bags are packed in carton boxes (60x40x25cm) or small boxes (30x40x25). On every box there is a yellow label with name/address and contents of the box. The boxes are packed on pallets (100x120cm).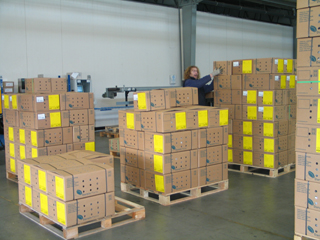 Frozen and Non frozen plants will be booked on separate orders.
Warranty and Claims
Orders are subject to crop conditions and other causes beyond our control. Orders are accepted subject to availability and we reserve the right to cancel a portion or all of your order if plants are not available due to causes beyond our control. We guarantee our nursery stock to be true to name. We make no other express or implied warranty and the plants are sold only with the limited guarantee. We will not be liable for any direct, indirect special or consequential damages or lost profits, or business interruption. Claims pursuant to our guarantee must be made within 10 days after the date you received the plants. We shall in no case be liable for any sum greater than the amount originally received for said nursery stock.